Brass Fasteners Rivets
We manufacture All Types Of Brass Rivets like Blind Rivets, Button Head Rivets, Flat Head Rivets, Round Head Rivets as per customer specifications and Drawing.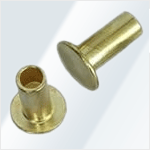 Types of Brass Rivets
Blind Rivets
Button Head Rivets
Flat Head Rivets
Round Head Rivets
Semi-Tubular Rivets
Shoulder Rivets
Solid Rivets
Truss Head Rivets
Wafer Head Rivets
Standard Tapping & Threading
Type BA (ASA-BA), UNF, UNC, BSF, BSP, BSW, NPT, UNS, METRIC and other as per specifications.
Material :
Brass, Stainless Steel, Mild Steel, Hot Dip Galvanized, Nylon and other materials as required.
Standards :
DIN, ISO, Metric, UN and others
Any other rivet as per customer's drawing & requirement
We are famous in competitive prices, good quality and on time delivery.