Brass Fasteners Screws
We manufacture All Types Of Brass Screws like Hex Cap, Slotted Set, Countersunk, Cheese Head, Drywall, Dowelas and many more as per customer specifications and Drawing.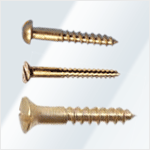 Types of Screws
Hex Cap
Slotted Set
Countersunk
Cheese Head
Drywall
Dowel
Teks
Thumb
Socket Set
Internal Thread
Wood Screws
Screw Eye
Socket Cap
Self Tapping
Mirror Screws
Shoulder Screws
Types of Heads
Countersunk Head Screw
Pan Head Screw
Binding Head Screw
Button Head Screw
Fillister Head Screw
Flat Fillister Head Screw
Flat Head Screw
Wafer Head Screw
Undercut Head Screw
Hexagon Head Screw
Hex Washer Head Screw
Oval Head Screw
Oval Undercut Head Screw
Round Head Screw
Truss Head Screw
Standard Tapping & Threading
Type BA (ASA-BA), UNF, UNC, BSF, BSP, BSW, NPT, UNS, METRIC and other as per specifications.
Material :
Brass, Stainless Steel, Mild Steel, Hot Dip Galvanized, Nylon and other materials as required.
Standards :
DIN, ISO, Metric, UN and others
Standard Nuts as per IS-1364, ISO 4032.
Any other nut as per customer's drawing & requirement
We are famous in competitive prices, good quality and on time delivery.