Brass Lock Nut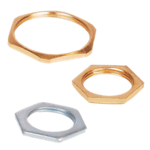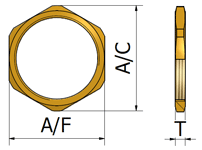 Brass Lock Nut is generally used to secure a cable gland, reducer, and adaptor in position at the equipment. Brass Lock nuts are widely used in electrical installation due to low corrosion effect.
Size:In Metric M16 to M90, In NPT ½" to 3 1/2" and In PG 7 to PG48
Material: Brass BS2874
Optional: Brass Lock Nut also available in Nickle, Zinc Plating, chrome Plating.
Note: Metric Lock Nut also available in Mild steel. Mild Steels are used in dry indoor or outdoor application where humidity is very low. Mild steel are very cheaper compare to brass. Mild steel lock Nuts are available in Zinc or Nickle Plating.
Brass Metric Lock Nut
| | | | |
| --- | --- | --- | --- |
| Thread Dia. | A/F | A/C | Thickness |
| M16 | 19.00 | 22.00 | 3.00 |
| M20 | 24.00 | 26.95 | 3.25 |
| M25 | 30.00 | 34.00 | 3.25 |
| M32 | 37.00 | 39.00 | 3.75 |
| M40 | 47.00 | 53.00 | 4.50 |
| M50 | 56.00 | 62.00 | 4.75 |
| M63 | 72.00 | 77.00 | 6.50 |
| M75 | 85.00 | 91.00 | 6.50 |
| M90 | 106.00 | 112.00 | 10.00 |
Brass NPT Lock Nut
| | | | |
| --- | --- | --- | --- |
| Thread Dia. | A/F | A/C | Thickness |
| 1/2" | 30.00 | 34.00 | 3.00 |
| 3/4" | 30.00 | 34.00 | 3.25 |
| 1" | 37.00 | 39.00 | 3.25 |
| 1 1/4" | 47.00 | 53.00 | 3.75 |
| 1 1/2" | 56.00 | 62.00 | 4.50 |
| 2" | 72.00 | 77.00 | 4.75 |
| 2 1/2" | 85.00 | 91.00 | 6.50 |
| 3" | 106.00 | 112.00 | 6.50 |
| 3 1/2" | 127.00 | 142.00 | 10.00 |
Brass PG Lock Nut
| | | | |
| --- | --- | --- | --- |
| Thread Dia. | A/F | A/C | Thickness |
| PG7 | 15.00 | 16.50 | 2.90 |
| PG9 | 18.00 | 20.00 | 2.90 |
| PG11 | 21.00 | 23.00 | 3.10 |
| PG13.5 | 23.00 | 25.00 | 3.10 |
| PG16 | 26.00 | 28.60 | 3.10 |
| PG21 | 31.00 | 35.00 | 3.60 |
| PG29 | 41.00 | 46.00 | 4.10 |
| PG36 | 51.00 | 56.50 | 5.10 |
| PG42 | 59.00 | 62.00 | 5.10 |
| PG48 | 64.00 | 70.00 | 6.10 |