Serrated Washer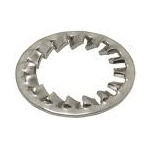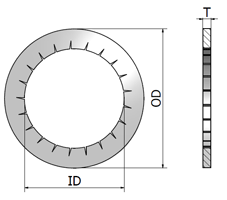 Serrated washer also known as "Vibration Proof Washers". Serrated washers have the unique feature of serrations on internal surfaces. When final flattening of the safety washer occurs with tightening of the screw, these serrations bite into the mating faces, thus preventing loosening of the screw, nut, bolt, etc due to vibration. Serrated Washers are ready to fit washer to sustain preload and avoid loosening.
Due to above feature of serrated washer are also used in cable gland accessories. Serrated Washers fitted internally to the equipment and before a locknut act as an anti-vibration device to prevent the cable gland or other cable entry device and locknut.
Particularly required in situation where vibrating heavy machinery such as mud, shakers, vibrating machine or pump, drilling equipment.
Material: Serrated washer made up of Stainless Steel 316L grade and also available in mild steel with Zinc Plating.
Size: From M16 to M90, 1/2" to 3" NPT sizes
Standard: DIN 6798J
Features: 1. Used for high vibration resistance due to positive equipment contact.
2. Excellent pretensioning.
3. Through proper radius selection, no splitting/cracking occurs during tightening.
4. Extensive application and flexibility, minimizes stocks.